Photos Copyright © Details West
Amtrak GE P40/P42 Modeling Page information: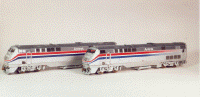 Athearn Amtrak P40 and P42 detailed with DS-271 and other parts listed below.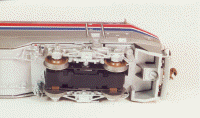 Front underside view.....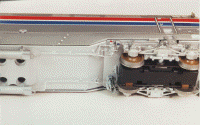 Middle view......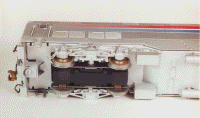 Rear end view.
DS-271 contains the following items:
*Sander Brackets
*Underframe Bell
*Screen Guard
*Toilet Drain
*K5LA Horn
*Hep Cables
*Large and Small Air Dryers with Mounts
*Emergency Fuel Cut-off (EFC)
*Large and Small Sinclair Radio Antenna
*Large and Small Battery Box Brackets
*Double Row Pipes with End Fittings
*And Many Pipe Assortments
Additional Parts Added:
MU-266 MU Hose 3 Cluster
AH-268 Air Hose for Locomotive with Angle Cock
Other parts include windshield wipers by A-Line, Lens by MV, Scalecoat II Paint and decal by Microscale.