Photos Copyright © Details West
New Freight Car Scale Draft Gear Coupler Pockets:
(Click on Photos to enlarge)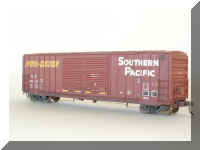 This is an Intermountain Gunderson RTR freight car retrofitted with the new Details West CC-1025 scale cushion coupler draft gear. Use Kadee's® new scale "whisker" spring couplers #158.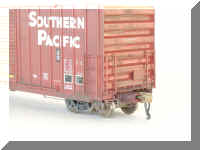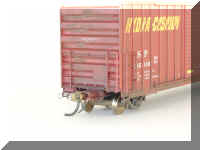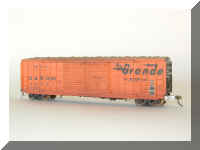 This car was modified from a Athearn car and equipped with a Details West underframe. New Details West scale cushion draft gear CC-1025 was added. Coupler draft gear is unpainted.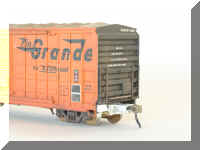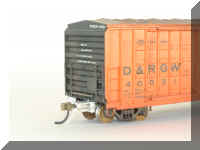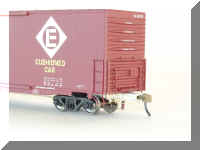 A Atlas auto parts boxcar retrofitted with new Details West scale cushion coupler draft gear CC-1026. This style draft gear has the "wide mouth" style which is common on 60' and longer cars.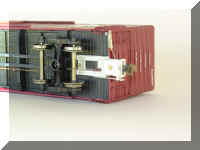 Use 00-90 flat head screws for the coupler cover on all the Details West scale cushion coupler draft gear. Use 00-80 screws to mount the draft gear to the underframe as shown.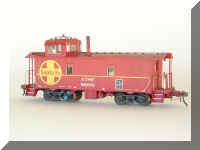 Even cabooses need the new Details West scale cushion draft gears. New CC-1027 was retrofitted to this Centralia Car Shop RTR ATSF caboose. Other new details were added to complete the model. Also included with the new scale coupler draft gear are coupler cut lever brackets and photo etched spring brass cut lever bars.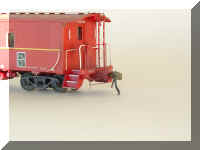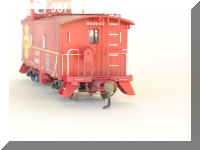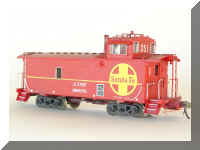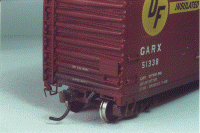 Completed Branchline Trains 50' RBL with CP-1022 coupler pocket installed. Air hose detail was not installed (modeler's own decision) due to trip pin on coupler acting as air hose line.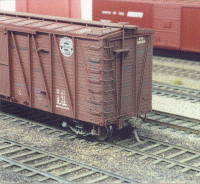 Lee Freeman, a well known Missouri Pacific modeler who resides in Southern California, used the CP-1022 coupler pocket in these two resin freight car kits as shown. Lee prefers to use the new Kadee #58 couplers. Combining the CP-1022 pocket and #58 couplers together greatly adds to the realism.